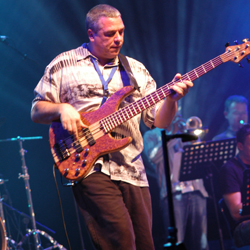 Laurence has played with many of the worlds great monosyllabic musicians such as Sting, Cher and Seal, and nearly monosyllabic artists such as Eno and Jaco. And working with Michael Kamen has recorded for films like Lethal Weapon and Mr. Holland's Opus.
While that celebrity stuff is all cool and groovy, when left on his own Laurence often ventures into the world of jazz and its surrounding planets.
Laurence Cottle is an electric bassist. His solo recordings have been mostly in the jazz/fusion vein, with such notable releases as Five Seasons, Laurence Cottle Quintet live and others. He was a member of the Los Angeles based fusion quartet, The Fents, and appears on their second LP, The Other Side, released on Passport Jazz label in 1987. He produced 3 albums for guitarist Jim Mullen in the 90's, recorded with British Jazzers Mornington Lockett, Tim Garland, Django Bates, Gerard Presencer, John Graham. Has written music for film and TV including Friends and The Oprah Winfrey show. Recorded with Eric Clapton, the Bee Gees, Procul Harum, Mike Oldfield.
Was a member of Bill Bruford's Earthworks from 2003-2006.
In 2009 he produced albums for Claire Martin, Gareth Williams and Mark Nightingale.
Cottle currently leads his own Big Band playing a variety of standards and his own material