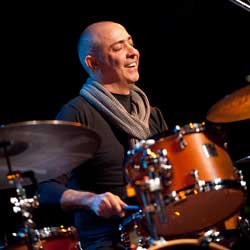 Tommaso Bradascio, drummer and percussionist, has graduated in percussion in 1995 and in Jazz Music in 2004, at the "G.Verdi" Conservatoire of Milan.
He's busy performing in different areas from POP, jazz, classic to contemporary music.
In the field of classic music, he has collaborated with the Orchestra "G.Verdi" of the Conservatory of Milan plus working with several concert societies.
He takes part in the percussion ensemble "Naqquara" directed by Maurizio Ben Omar, performed in several festival of all the world, including the prestigious "International Festival of Houston".
He has collaborated, as drummer-percussionist, with the dancer Carolin Carlson on the stage of contemporary dance at the "Piccolo Teatro" of Milan.
In the field of music jazz, he has collaborated with the pianista Sonny Taylor and he still plays with musicians of international reputation including: Don Friedman, Jeff Fuller, Dave Liebman, Tino Tracanna, Franco Cerri, Bruno Lauzi Sante Palumbo, Mario Rusca, Renato Sellani, Guido Manusardi, Dado Moroni, Bruno De Filippi, Raimondo Campisi, Emilio Soana, Paolo Tomelleri, Laura Fedele, Gunter "baby" Sommer and others.
He has taken part in several european tours with the group "Percussion staff", lead by the percussionist Gunter "baby" Sommer and visited festivals such as the "Festival Jazz of Hamburg", the "Europa Jazz Festival du Mans ", the "Mulhouse Jazz Festival", the "Clusone Jazz Festival", "Festival Jazz of Cagliari", the "Grosseto Jazz Festival", and others..
Recent discography
| | |
| --- | --- |
| 2000 | Don Friedman/Jeff Fuller/Tommy Bradascio, "Standards in Cagliari", (Soul Note) |
| 2003 | Felice Clemente Quintet, "Way Out Sud", (Splasc-h) |
| 2003 | Cartoon Band, "Cartoons Band", (Map records) |
| 2003 | Percussion Staff & Gunter "Baby" Sommer, "Nix But", (MusicCenter) |
| 2004 | Francesco Magni, "Scigula", (Le Brianze) |
| 2004 | Alberto Guareschi, "Omelette", (Map records) |
| 2004 | Bruno Lauzi/Sante Palumbo, "Attenti a quei due", (Map records) |
| 2006 | Sante palumbo trio, "jazz collection 2 hit jazz international" (Idyllium) |
| 2007 | Bruno De Filippi & Mario Rusca Plays Modugno (concertOne) |
| 2007 | Blu Star Club con Alessandra Ferrara e Edoardo Agnelli, "Ma se ghe penso..! ", ( ITWHY) |
| 2007 | Lele Micò, "Il sole suull'onda di un pianoforte", (Primrose Music Intenational LTD, prodotto da Victorio Pezzolla) |